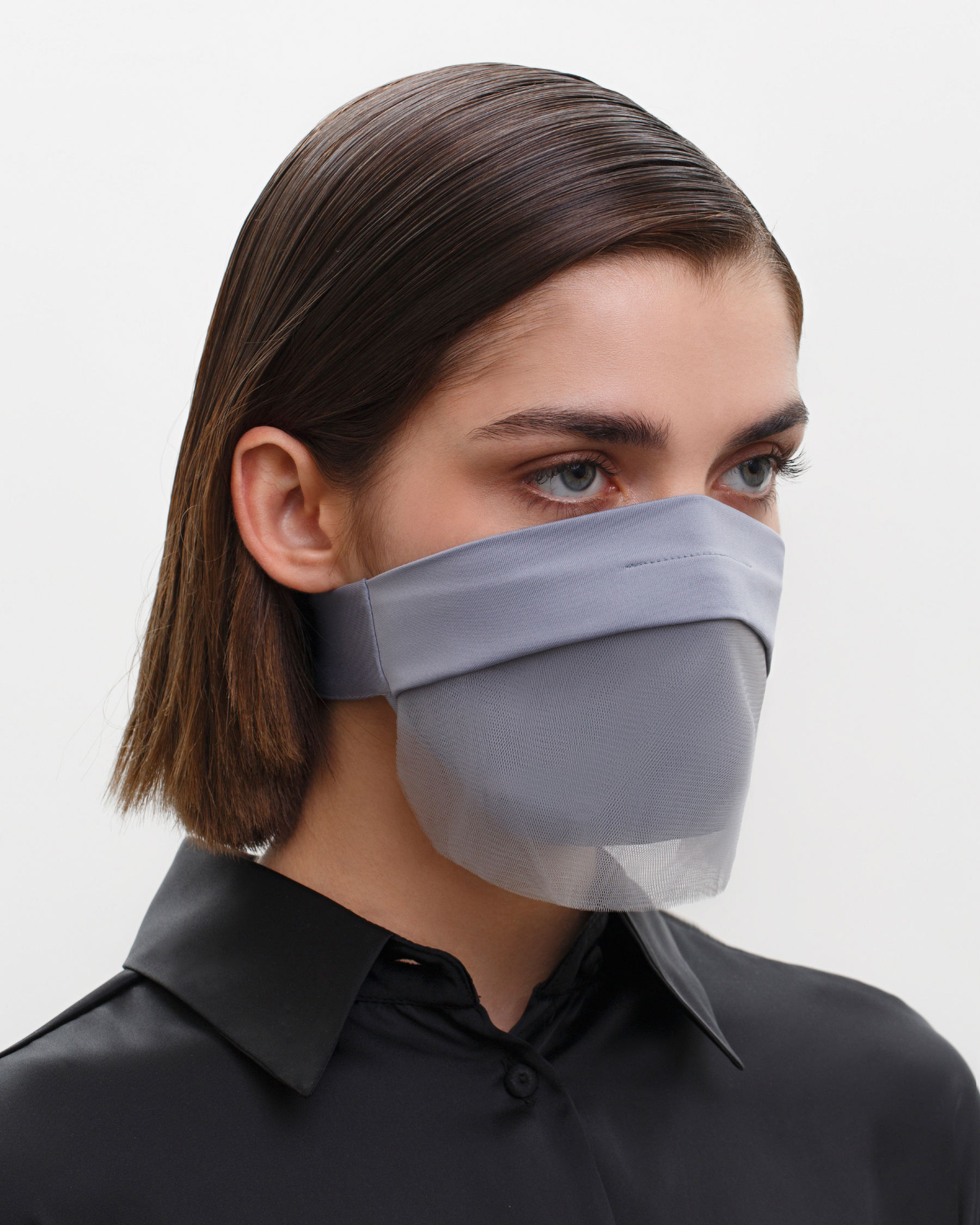 A Face Mask Will Never Be The Same Again
It's a memorable detail of your outfit and an elegant solution that's different from the standard face masks. Designed to become an indispensable item in any lady's wardrobe. Perfect for special occasions and high-profile events. Tasteful & fashionable face covering that protects the face, taking into account the concern for the wearer's safety and hygiene. Add points to your styling and highlight your unique personal taste.
Innovative Design
Beyond aesthetics, The FAKOUT face covering mask is constructed utilizing couture cut-and-sew techniques, pushing innovations in protective gear that fuses fashion, culture and function. We applied the principles of cutting and sewing used in a high-fashion segment to a unique product suitable for everyday wear. Designed specifically for daily use, special occasions & high-profile events.
Ear Strap-Free
The convenient placement of the wide securing band makes it possible to adjust the position of the mask on the face. You feel more relaxed and free of tension.
Excellent Anti-bacterial Functions
The face masks are made from a high tech, silver ion, antibacterial fabric (ATB-UV+). It has bactericidal and anti-fungal properties and serves as a highly effective disinfectant against pathogenic microorganisms.
Enhanced Breathability
The fabric weaving structure is moisture-wicking and ensures a high level of air circulation. The fibers support body temperature regulating properties through their moisture management, contributing to more breathable fabrics that support the body's natural thermal regulation.
Long-Lasting Softness
The materials are soft and skin-friendly, so it won't be uncomfortable to wear for a long period of time. Exhibiting high flexibility, the fibers offer textiles a long-lasting quality of exquisite softness. Due to the fiber's sleek cross section, the fibers enhance the soft touch of fabrics even after repeated washing.
Washable
Bacteriostatic textile face masks may be washed and reused, maintaining the quality and properties of the fabric. After termination of wearing, the colonies of pathogenic organisms on the fabrics's surface die entirely within 24 hours.
Rapid Absorption & Evaporation
Feels cool & dry. With a uniquely designed fiber cross section, ATB-UV+ evaporates and dries wetness rapidly. ATB®-UV+ helps stay cool in the hot summer and also keeps warm in the winter by drying wetness quickly.
Strength & Durability
Fibers are versatile and distinguished by their greater strength among cellulose fibers.
Eco Dying Technology
Eco-Friendly dyeing method, dying individual fibers as opposed to the entire fabric. This method not only ensures saturation and durability of the colour, but also uses less water, chemicals, and energy.
About The FAKOUT
The pandemic took everyone by surprise, changing the course, and changing the way we live. In some ways, our inner and outer worlds have passed into a state of military existence. Idleness, lightness and beauty of everyday life were replaced by regulations, anxiety and a fear for the future.
However, every war has its own heroes. These individuals, or communities, establish their own rules, overcome circumstances, not adjust, but instead they transform the reality. They are the people who can pass through the mirror and live in a parallel universe. This is a world where the war is over, where any rational requirements, regulations and restrictions are combined with beauty, joy and tranquility.
We thought about all these when we worked on THE FAKOUT collection. We want to equip women with a personal «weapon». A weapon that will help beauty and personality gain the upper hand in the battle full of sameness and tastelessness. With THE FAKOUT collection, we materialise the artefacts from this roaring and the joyful parallel universe in our world.
The items from THE FAKOUT collection are not only accessory items and protective elements. They are the weapons: the weapons in a war where beauty and elegance win.
description
Working on the creation of this product line, we had two main objectives:
— To develop ear strap-free, tasteful and integral items that protect the face, taking into account the concern for the wearer's safety and hygiene;
— To change the perception of a face mask as an object that causes negative associations and medical alarmism while preserving the individuality and human image of the person wearing it.
We used a unique anatomical cut and stayed away from the standard patterns and design methods utilized for such products by the industry. Our mask has a large area of contact with the face but ensures the person wearing it does not experience any discomfort.
We chose a couture method of styling on mannequins. In other words, we applied the principles of cutting and sewing used in a high-fashion segment to a unique product suitable for everyday wear.
FAKBYFAK's face masks may be worn daily. The qualities of the fabric will be maintained even with frequent washing.
The bacteriostatic & anti-microbial properties of the used fabric are confirmed by a certificate from the US Food and Drug Administration (FDA) and a certificate from the Japan Textile Evaluation Technology Council (SEK).
Please understand that this product is not a replacement for medical-grade Personal Protective Equipment. Please continue to practice social distancing, wash your hands and refrain from touching your face.
product details
Key Features

Patented ATB-UV+ (antibacterial-ultraviolet) silver-ion nanotechnology fabric tested to reduce bacteria up to 99% (will actually kill the microbes that land on the mask fabric). ATB-UV+ is the future generation of anti-bacterial fibres.

ATB-UV+ prevents micro-organism multiplication and prevents odor.
Keeps consistent temperature to keep cool during summer.
Dries moisture faster with advanced fabric technology.
Protects your skin from UV-B(290-320nm) and UV-A(320-400nm).


Excellent Anti-bacterial & Anti-microbial Functions
Eco Colour Technology
UV Protection
Strength and Durability
Color Retention
Rapid Absorption & Evaporation
Feels Cool and Dry
Enhanced Breathability
Long-Lasting Softness
Prevents Odour

Care Instructions

Wash in a laundry bag on gentle or delicate cycle
Fasten hook & loop before washing
Do not iron
Do not bleach or treat with chlorine
Do not tumble dry
Do not dry clean

Source of Materials
Switzerland, Austria, South Korea, Russian Federation
Brand SKU
FBF-42102-03
Brand
FAKBYFAK
Materials
Single Jersey, Hi-Tech Polyester (88%) & Polyurethane (12%) with silver ions, ATB-UV+, Antibacterial, Quick Absorption, Quick Drying, UV Protection, VELCRO® hook and loop
delivery and returns
delivery
Free Worldwide Express Delivery
Free Worldwide Express Delivery 5-7 days by DHL.
We cover all duties and taxes when shipping from abroad.
return
Non-Returnable
In accordance with International Return Policy, US Federal & State guidelines and for the safety of our customers, suppliers and carriers, this product category is non-returnable and non-refundable.
.